Program Overview
Posted on August 7, 2012
The Hope and Spirit series was dedicated to the millions of victims of Soviet deportations–the men, women and children from all Soviet-occupied nations, and of all nationalities, religions, and races–who suffered two indignities: the brutality of forced exile, imprisonment, starvation, torture, and genocide and the injustice of the subsequent denial, minimization and suppression of their suffering and victimization. June 2011 was the 70th anniversary of the beginning of mass Soviet deportations of Lithuanians to Siberia. More than 132,000 Lithuanians were deported to remote areas of Siberia. More than 70 percent were women and children. 30,000 Lithuanians died as a result of slave work and starvation. In addition, 150,000 were sent to Gulags, Siberian concentration camps, where most died. Historians estimate that as many as 20 million people were killed by Stalin's genocidal machine.
The numbers of deaths due to Stalin's brutality far exceeded those of Hitler. His death machine functioned at the same time as Hitler's, in the same geographic location, but produced many more casualties.
I was born and raised in Toronto, Canada. My family moved to Chicago where I attended high school, college and medical school. My subsequent professional careers, medical and artistic, have spanned over three decades, in many different geographic locations. Through all of these years in North America, I noticed that the general public knows much about Hitler's atrocities, but none of Stalin's.
Both of my parents were born and raised in Lithuania. Towards the end of World War II, they fled oncoming Soviet forces into displaced persons' camps in Germany. They subsequently emigrated to Canada. Amongst my own relatives, during this time period, my great-grandfather, both of my grandfathers, and one aunt all died as a consequence of NKVD (Soviet secret police) interrogations. My grandmother, at the age of 71, and 7 other aunts and uncles were deported to Siberia.
Why were these innocent individuals and families treated like criminals? Why were they deported? Why were they murdered? The majority were landowners, having small family farms. Because they might object to Stalin's new political system, they needed to be either exterminated or deported. Likewise, anyone educated or having a profession, were suspect and had to be seriously dealt with. This was genocide, pure and simple, on the basis of political motives. This happened to many millions of families across Europe.
The fact that the general North American public is unaware of Stalin's brutality, while being knowledgeable about Hitler, is a serious historical imbalance which needed to be corrected. I decided to organize the Hope and Spirit program in order to remedy this imbalance.
Those who survived deportations and life in Gulags, did so due to the strength of their spirit, the force of their will, and endless hope. Thus, the exhibit title is Hope and Spirit, a celebration of the human spirit.
In order to remember, and not to forget, the atrocities that were committed by Stalin, I organized this extensive program. If we forget history, it will repeat itself.
What follows is a summary of the events that took place in this year-long program.
At the core of the program, was the exhibit of original materials from Siberia. The majority were loaned from the Lithuanian Research and Studies Center (LRSC) which is located in Chicago. In total we had 226 letters from Siberia (some of which were found after the exhibit ended, including the letters collected by Jonas Sepetys, the grandfather of Ruta Sepetys, the award-winning author), 91 envelopes sent from Siberia, and 223 photographs sent from Siberia. In the 1970's Father Prunskis, the editor of the newspaper Draugas (Friend, located in Chicago) repeatedly advertised his request to receive original material from Siberia. Individuals across North America, Europe, Australia, New Zealand, and South America sent him materials which he used in his 1981 book Lietuviai Sibire (Lithuanians in Siberia). After repeated searches of the archives, we were finally able to find a portion of the original material that Father Prunskis had collected. I estimate that over half of what he was sent is still missing, and hopefully will be located. In addition, Mrs. Karuziene donated a set of photographs of her relatives that were deported to Siberia, along with explanatory text, which made up one full display panel. Mrs. Vincenta Plioplys loaned her family photographs of her relatives in Siberia. This material was placed in archival-quality display sheets for the exhibit.
In addition we had 16 receipts for shipments of supply packages sent to individuals in Siberia, and two extensive, hand-written memoirs by Siberian deportees, on display. All of these letters, envelopes, photographs, receipts and memoirs are available on CD's.
Ms. Elena Juciute was a high school mathematics teacher in Pilviskiai, the city near which the Plioplys homestead is located. When she started witnessing the atrocities the Soviet forces, she volunteered to help the resistance movement by doing paperwork. She was caught, sent to a Siberian hard-labor Gulag for eight years, followed by several years of hard labor in a Lithuanian prison camp. Eventually she was able to emigrate to the US, bringing with her materials from Siberia. This set of materials, loaned from the LRSC, filled three full display cases. Ms. Irena Balzekas did a wonderful job installing these panels and providing translations into English of the explanatory materials that Ms.Juciute had prepared decades ago. My own presentation of Elena Juciute's material is on YouTube and is also available as a DVD.
One display case dealt with the personal history of Ms. Sofija Romeriene, an artist and wife of a polish diplomat, who was deported to Siberia. She drew images of her experiences during deportation, copies of which were included in this display case. The display and English translation were produced by Ms. Irena Balzekas. This material was loaned from the archives of the LRSC.
In addition, a set of 18 historical posters (most 3 feet x 6 feet in size) were purchased from the Genocide Research and Resistance Center in Vilnius, Lithuania. The sequence of posters was called Chronicle of Violence and presents documentary materials about the Soviet occupation of Lithuania and other European countries, and the extent of the mass deportations to Siberia.
Some of the most moving portions of this program were the personal presentations by individuals who were themselves deported to Siberia. In all cases they were infants or children when deported. Sharing their experiences were Mr. Kestutis Kepaturis from Hamilton, Ontario, Mr. Rimantas Mackevicius, Mr. Wesley Adamczyk and Ms. Irena Valaitis, all from Chicago. Of note is that the presentations by Ms. Valaitis included readings of her own poetry about Siberian deportation. Mr. Adamczyk, besides explaining his own personal and family experiences at the hands of the Soviet forces (his father, a Polish army officer was one of the victims at Katyn), showed a PowerPoint presentation of art work done by children, who were deported to Siberia, as part of their journals. Also, Ms.Luka Saparnis read poems and passages from these journals. These presentations were recorded and are available on DVD's.
I arranged a children's art exhibit about the topic: what my parents and grandparents told me about deportations and life in Siberia. 52 children across North America participated and sent in a total of 54 works of art. The exhibit was juried by Ms. Magdalena Stankunas, Ms. Laima Apanaviciene and Mr. Danas Lapkus. According to age bracket, there were 5 first place winners, 10 second place winners, and 10 honorable mention awards. All the first and second prize winners won cash awards. All children received a certificate of participation.
Growing up in North America, children of Lithuanian descent are steeped in local culture and history, and have started to forget the tragic events of the recent past. This attempt was to have children refresh the memories of their parents and grandparents, and give them a chance to gather information, and physically do something with it, thus making it a more meaningful learning experience. The entire children's art exhibit is available on CD.
Ms. Neila Baumiliene, head of the A. Kazickiene Lithuanian School in Riverhead, New York, requested that five of her students write essays about the deportation experience. These essays were translated into English and installed by Ms. Irena Balzekas. A recurrent theme in these family stories is that the forefathers of these children, had come to the US to amass some wealth. In the 1920's and 1930's they returned to Lithuania, purchased and established family farms, only to have their land confiscated and themselves be deported to Siberia. The children's writing exhibit is available, along with the art exhibit, on CD.
Two panels were dedicated to Mr. Alexandras Stulginskis. He had been the President of Lithuania and, with his wife, was deported to Siberia. He was one of two presidents of countries deported to Siberia, the other one being from Latvia. The display of letters and photographs was prepared by his granddaughter Ms. Ramune Rackauskas, who also was filmed for a YouTube presentation, which is also available on DVD.
Mr. Juozas Kazlauskas, as a child, was deported to Siberia with his mother. In 1988 and 1989, when travel restrictions were liberalized, he and others returned to the deportation sites. As a photographer he took many photographs of these sites that were on display as part of the Hope and Spirit project. All of  the photographs were on loan from my own personal collection. An explanation of Mr. Kazlauskas' history has been filmed and is available on YouTube and as a DVD.
A more recent form of Siberian exploration is Misija Sibiras in which groups of young professionals go from Lithuania to visit Siberian deportation sites. The ostensible purpose is to restore Lithuanian cemeteries at these isolated locations, but actually is to educate the youth about the incredible hardships faced by their ancestors. This program has been in operation for almost a decade and organizes one trip per year. The program is highly selective and makes sure that participants are physically and mentally able to make the two-week excursion (compare this to the selectivity of women, children, infants and elderly who were deported by Stalin). They travel by air conditioned buses (compare this to a 4 week transportation by a cattle car with no seating and no toilet facilities). One of the participants in the 2010 program, Mr. Paulius Miezelis, presented his own personal experiences of this journey. In addition, I arranged for an exhibit of photographs from the 2010 Misija Sibiras excursion to be enlarged and printed, with explanatory text. This display was placed in the museum's audio-visual room.
Book presentations and signings were also arranged. Mr. Timothy Snyder, professor of history at Yale University, presented his award-winning book Bloodlands: Europe Between Hitler and Stalin. The Armonas family presented the 50 year anniversary re-publication of Ms. Barbara Armonas' Leave Your Tears in Moscow. Ms. Ellen Cassedy presented her book about the Lithuanian holocaust, We Are Here. Ms. Ruta Sepetys presented her award-winning Between Shades of Grey.
Film screenings also were arranged. The most notable was the personal presentation by Mr. Christopher Swider of his award-winning film, Children in Exile. His presentation is available on DVD. Other films that were shown included Peter Weir's The Way Back, Edvins Snore's The Soviet Story, Ken Gumbert's Red Terror on the Amber Coast, tveuropa's Children of the Ice, tveuropa's Stations of Grief, an extensive series of films in Lithuanian by Misija Sibiras, and the following Lithuanian language films: Birzelio Ledas (Ice in June), Gyveno Senelis ir Bobute (There Once was a Grandfather and Grandmother), Mirties Lageriai (Death Camps), Islikti ir Papasakoti (To Survive and to Tell), Kruvinasis Rugpjutis (Bloody August), Vaziojame is Ukvatos (Going Willingly), Atsimenu, Vadinasi, Esu (I Remember, Therefore I Am). All of these films were shown on a daily basis after their initial showing at the museum. The two films by tveuropa had their North American premier as part of the Hope and Spirit project.
Amongst the LRSC materials, I identified three poems that were written by a woman in Siberia. She had been a school teacher, and sent the poems to an acquaintance in Montreal, Quebec. She had been deported to the Sajana mountains, just west of Lake Baikal, and wrote these poems between 1953 and 1955. These previously unpublished poems were transcribed and received an incredibly positive review in Draugas–a full page was dedicated to the analysis of these gems. I have not been able to identify the author of these poems. These poems served as the basis for an evening of Poetry from Siberia. During this evening presentation, Ms. Audre Budryte read these remarkable poems, and Ms. Irena Valaitis recited her own poetry.
Songs from Siberia were presented by Ms. Audrone Simanonyte, with the assistance of Ms. Julija Sakalaite-Paukstine and Ms. Aldegunda. Ms. Simanonyte's mother and father were deported to Siberia, under different circumstances. Ms. Simanonyte's mother collected songs, while in deportation, and taught them to her daughter. While in Siberia she also wrote poems, which were recited during this performance. This performance was filmed and is available on DVD.
One of the most time-consuming parts of the Hope and Spirit project was reading all of the discovered letters. Many thousands of pages had to be read, and correlated with available historical sources. Excerpts were taken, and a reading of Letters from Siberia took place on a cold January evening. Ms. Luka Saparnis and Mr. Sam De Sando assisted me in the readings. Subsequently, the session was filmed and three YouTube videos were produced. The entire film is available on DVD.
The events of the Hope and Spirit project were listed as part of the 2011-12 Soviet Arts Experience which took place at many locations across Chicago, and was organized by staff at the University of Chicago.
Parts of the exhibit will continue to be on display, indefinitely, at the museum. On the first floor, the Chronicle of Violence decorates one side of a long corridor. The opposing wall has a series of photographs by Mr. Juozas Kazlauskas that I donated to the museum. The audio-visual room will continue to display the Misija Sibiras 2010 photographs which I prepared. However, the major exhibit, on the third floor, was taken down at the end of April 2012, and the material returned to archival storage.
A virtual tour of this exhibit was produced by Mr. Eugenijus Krukovskis. Thus, this exhibit, even though physically no longer there, can still be visited in virtual reality. The quality of the images in this tour is remarkable. By scrolling up close, visually everything can be seen clearly, and much of the writing and typing can be read. The virtual tour is available on this website and also separately on a CD.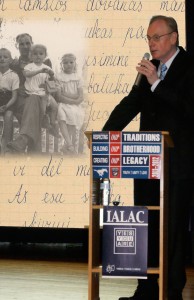 It is my opinion that coincidences do not happen. Towards the very end of the Hope and Spirit program, the Parliament of the European Union issued a declaration requesting international cooperation in commemorating the 1949 wave of Stalinistic deportations, from the Baltic republics, to Siberia. This announcement reached me an hour after I gave a speech to the entire student body of St. Rita High School, my alma mater. We quickly arranged a date for a formal presentation, at St. Rita, to coincide with this Parliamentary request. On March 27, 2012, I gave a 45 minute PowerPoint presentation summarizing the Hope and Spirit project, and explaining why this history is very important in our contemporary world. In the auditorium there were 300 students. Also, this talk was broadcast over the internet to Augustinian high schools across North America. It is estimated that 5,000 students listened to this presentation. It was filmed and is available on the internet, and on DVD.
I subsequently repeated this presentation in Toronto, Ontario, at the Maironis Lithuanian School, and at the museum during the last day of this project.
The number of individuals who assisted with this program, and need to be acknowledged, is truly great. I would like to single out those individuals for special thanks, without whose efforts the Hope and Spirit program would not have been possible. These include the staff of the LRSC: Dr. Augustinas Idzelis, President, Ms. Kristina Lapienyte, Executive Director, and Ms. Skirmante Migliniene, Archives Director. The other individuals who deserve notable thanks are staff members of the Balzekas Museum of Lithuanian Culture: Ms. Rita Janz, Ms. Sigita Balzekas and Mr. Stanley Balzekas Jr. A most sincere thanks to everyone who helped out.
Audrius V. Plioplys MD, FRCPC